The Simplest and Trouble-free Lansweeper to Zoho Desk Data Import Tool You'll Meet
Encoded communications, secure servers, up-to-date authorization ways
Automated method, zero time-out, reduced workflow breaks
Reasonable pricing to guarantee a feature + fee balance
Our customers
Customers among different verticals pick us






How Lansweeper to Zoho Desk Data Migration Works
You can do data migration in a few simple steps, applying our automated migration service. If you're managing a elaborate data structure, feel free to choose our tailored route. We're ready to fulfill your special needs.
Step 1. Link your Lansweeper and Zoho Desk platforms
Step 2. Choose the records you need to migrate from Lansweeper to Zoho Desk or vice versa
Step 3. Map your data in Lansweeper and Zoho Desk and do the necessary rearrangements if they don't
Step 4. Check the outcomes by running Free Demo Migration
Step 5. If the data migration looks right to you, move ahead with your Full Data Migration
Voila! Are you looking to migrate your records from Lansweeper to Zoho Desk? It will save time and resources without compromising quality.
Step 1. Contact us for personalized help desk data import
Step 2. Allow our migration ninjas guide you through your customized data import
Step 3. Perform Demo Migration to see what your historic records will look like after the export
Step 4. If everything looks right, proceed your Full Migration
Enjoy painless, custom-tailored data migration from Lansweeper to Zoho Desk, with savvy customer service at each phase. Don't fret. Our savvy customer service is up for it to help you all over the process.
Help Desk Migration Performs the Lansweeper to Zoho Desk Migration Simple and Painless
Focus on your core goals. We'll take the heavy lifting
Whether you're importing from Lansweeper to Zoho Desk, make use of our automated migration solution. It will help you to import all your data to a chosen system in just a couple of clicks. Thus, you can get your import or export completed in a timely manner without putting urgent tasks on the shelf.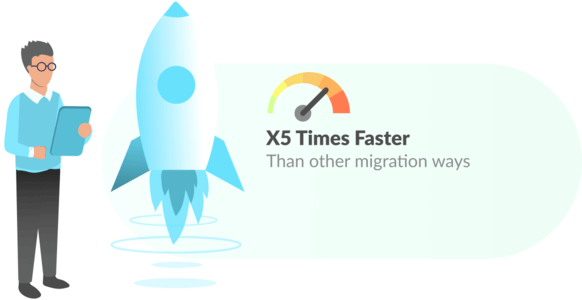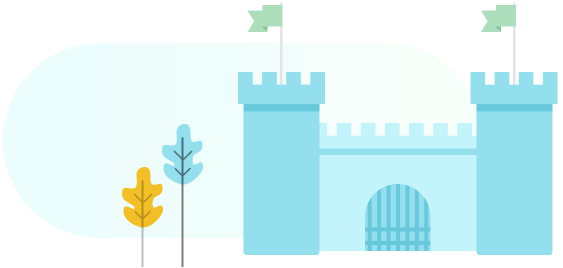 Data import with confidence
Our Migration Wizard includes measures for ensuring your records is secure throughout the import or export process. We deliver supreme data protection using established modes, alongside regulatory compliance, suitable server safeguarding, and constant security scans.
Select the migration service that clients love
Myriads of efficient data exports and plenty of awards and positive commentaries can prove the high standard of our migration service. And our goal of high quality does not terminate there. Because our mission is to take in most of your data migration requirements, we keep advancing our service and frequently increase it with neat capacity.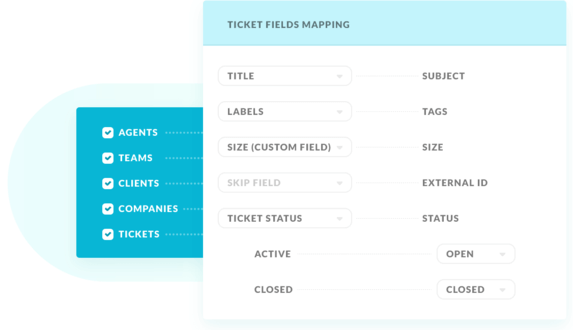 Use comprehensive mapping to cover all your needs
Help Desk Migration service will rescue you from copypasting help desk data or adding absent data types amidst Lansweeper to Zoho Desk migration. Now you can map standard and custom fields, apart from that adapt your data import and export right in our migration service. You get to preserve the system of your support service data with minimal job.
Select a convenient time for data import
Get going by the help desk data import whenever it fits into your operations. What's more, our Delta opportunity will let you to import the most recently changed records after the historical data was imported. Then, relax and let our migration service make the rest.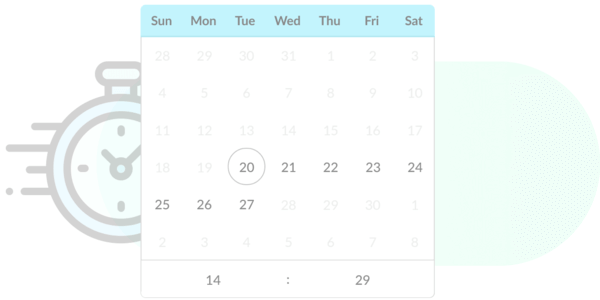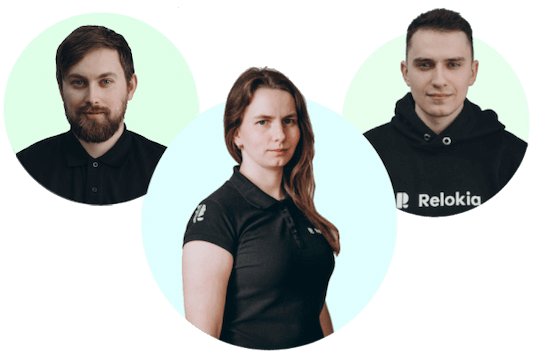 Communicate our savvy support pros
Don't worry about confronting issues while performing your Supported Platform data import. Empower Help Desk Migration service representatives search into your setback. With plenty of well-done data export/import expertise, they can sort out any challenge joined with your customer support migration or even provide help throughout the whole record migration.
What Data Can You Migrate from Lansweeper to Zoho Desk ?
With Help Desk Migration Wizard, you can simply migrate huge piles of diverse data types to or from Lansweeper to Zoho Desk. Check out the details of data types you can migrate implementing automation service by yourself from tech support team.
Do you want nonstandard Lansweeper to Zoho Desk migration requirements?
Drop us a line for a unique data migration.
| Lansweeper entities | | Zoho Desk entities |
| --- | --- | --- |
| Teams | | Teams |
| Agents | | Agents |
| Companies | | Accounts |
| Users | | Customers |
| Tickets | | Tickets |
| Categories | | Sections |
| Folders | | Sub-sections |
| Articles | | Articles |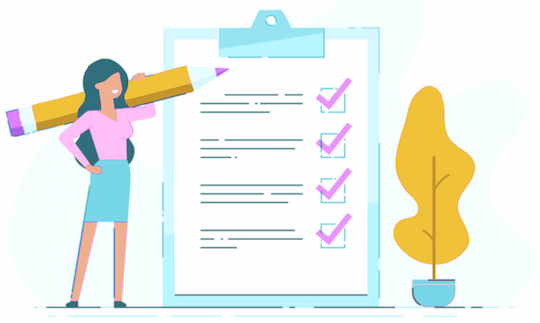 Find out the way to prepare for Zoho Desk data migration
Prepare for Zoho Desk data migration by checking an in-depth step-by-step guide
Improve Your Lansweeper to Zoho Desk Move with These Functionalities
Omit attachments
Does your targeted platform present definite data storage? Leave behind attachments, specially if your historical data lose no track of processes without them. The data migration time will shorten remarkably.
Create a new tag to the migrated tickets
Apply tags to the migrated tickets — just like that, you won't misinterpret them with the existing. You may further categorize the tickets by qualifying tags like 'lost,' 'closed,' or 'stop replying.'
What is the cost of your Lansweeper to Zoho Desk data migration?
And now to the burning question. How much will it cost to switch from Lansweeper to Zoho Desk? The price will mostly depend on the data volume you require to move, the complexity of your specifications, and the features you'll choose or custom work you'll inquire. Run a Free Demo to test the Migration Wizard performance and learn how much your data switch will cost.
Run a Demo to get the price
Your Help Desk Data Import and Export is the Whole Way Through
Help Desk Migration solution comes with endless import options with no damaging on security. We properly test all servers and make updates, so that your data is safe based on the latest standards.
We enforce a stringent two-factor access policy
Help Desk Migration Wizard uses two-factor access. On top of that, users can only import from Lansweeper data if they have admin rights. With these security measures in place, you won't have to worry about data leak.
Three-layer business data protection
We enable three layers of records safety: physical (we take care of our hosting facilities against physical and logical intrusion), network (we take care of our networks against cyber abuse), and app (we secure your records within our importing and exporting platform against unsanctioned entry).
Meet protection levels
We take care of your data based on all integral security standards. Our Help Desk Migration service has an extended list of compliance, and we continue growing it. Nowadays, we meet the demands and requirements of GDPR, CCPA, HIPAA, PCI (Level 1), and other data safety principles.
Reviews inspires us elevate our service: Some words from Help Desk Migration customers