On March 13, 2018, Salesforce stopped selling Desk.com to the new clients, and after March 13, 2020, the company will discontinue the support of the platform. Though there is no need for immediate action, you should start evaluating the options available on the market as data migration can take some time and effort.
Here's how to migrate from Desk.com to Zendesk with the help of our automated data transition tool.
How to migrate from Desk.com to Zendesk: Step-by-Step Instruction
There's one thing you should do beforehand. If you're transitioning custom ticket fields from Desk.com, you should create corresponding ones in Zendesk before launching the data transition. After you have created the fields, log out of your Zendesk and log in again. This action will clear the cache and let the information from the custom fields transition.
Connect your apps with our service
Before starting the migration, make sure that you have admin rights for your Desk.com and Zendesk accounts. All good? Let's begin then.
In order to read and migrate the records from Desk.com to Zendesk, we need your permission to access both platforms.
Go to Migration Wizard and select Desk.com from the list. Enter the following credentials to let our service read and move your data:
URL (the address of company's Desk.com account);
Email (the email you use to log in Desk.com);
Password (the password to your account).
Click, "Continue" and log in to your Zendesk account. Thanks to OAuth, all you need is the URL of your company's Zendesk account. Then, you'll be taken to an authorization page, where you should just sign in to Zendesk.
In both cases, you'll see a green light if the connection was successful. In case of error, check if you're using valid/correct credentials and try again.
Map your data
When migrating from one help desk to another, you want to make sure that the information goes to the right places. So do we, that's why our migration tool checks the specs of each platform and maps the objects/fields automatically: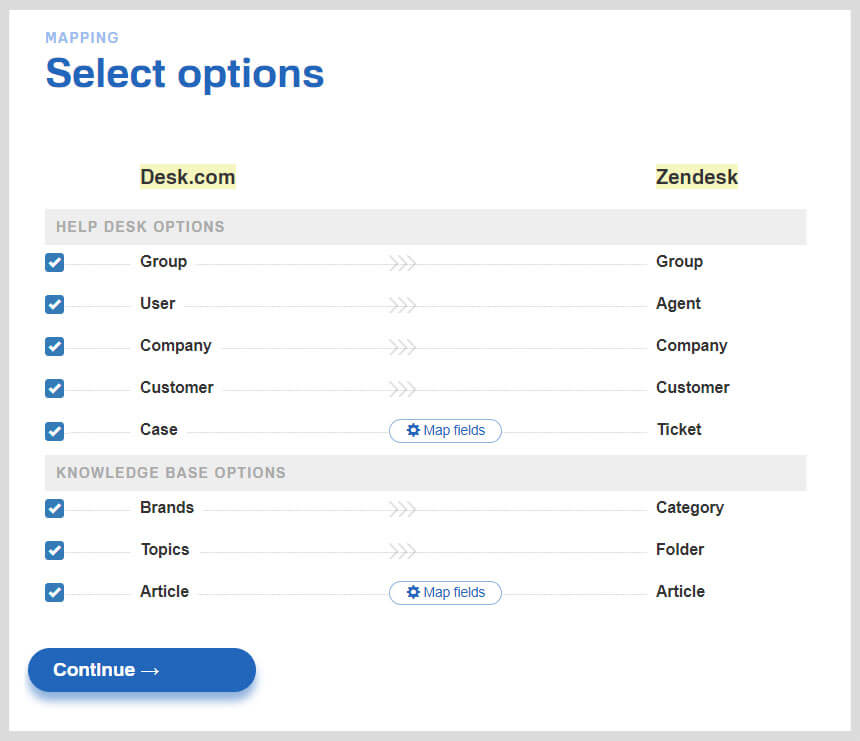 You can review and tweak some aspects of the mapping. Namely, you can change the destination of default and custom fields of Tickets and Knowledge base articles.
If you're happy with how the records are going to migrate, then move to the next step.
Test our service
Next comes the Demo Migration. It's a trial import during which our service transitions 20 tickets with related records into your Zendesk account. That way you can check if the data migrates correctly as well as estimate the price of Full Data Migration.
When the Preview is completed, carefully review the results of the Demo Migration following this guide.
If everything looks great, you can start the Full Data Migration.
Say "Bon Voyage!" to Desk.com
This is the final step of your Desk.com to Zendesk migration. At this point, you have done everything necessary. The rest is on us.
The import can last a couple of hours, days or sometimes weeks. It depends on the volume of data in Desk account. You don't need to keep the browser open or your computer on. The migration is performed in the cloud, so you can close the tab and go about your day. Once all data is imported, you will receive an email notification prompting you to check the final result.
What are you waiting for?
As you can see, using our service allows migrating from Desk.com to Zendesk regardless of your tech know-how. So, give it a try right now!