Not so while ago we decided to stack HelpDesk against Zendesk to find out how the system holds up. Well, we have both good and bad news. Let's start with the good news, we really enjoyed the format and the finding we've made, so we decided to do it again. The bad news is, though, we had to stack the system against another market leader, Freshdesk.
But that's all hardly bad news in the first place when you consider that we get to see the new system from a completely different perspective. So, as usual, we'll compare features, pricing, and a few other things. Thus, without any further delay, let's see what will be the outcome of the HelpDesk vs Freshdesk battle. Let's get started!
Noteworthy Features
Let's start this analysis with the look at the unique features each tool has. After all, most help desk solutions already have a ton of industry-standard functions (things such a knowledge base module won't really surprise anyone) and can only separate themselves by offering unique solutions or good pricing (sometimes both).
HelpDesk
Let's start with HelpDesk. Now the first things that immediately caught out attention were the following functions:
Categories — The core objective of this system is to ease your work by organizing your tickets into separate categories. These categories are designed to be used as both as a sorting solution and as a shortcut system. With the Categories system, you can see all the tickets that require your immediate attention just by pressing the left mouse button once.
Tagging — This system is designed to help you pinpoint both popular and rare incidents through flagging. Think of it as a feedback/reporting system that your agents can use to notify you about certain types of issues. You can use the tool to aggregate your tickets into a category where you'll be able to see the number of similar cases you've encountered.
Ticket satisfaction — Knowing how your customers view your business will not only help you tackle your most common issues but will allow you to improve the level of service. And this is exactly what this feature allows you to do. It gathers customer opinions about your business, ticket response, among other things and displays it in an easy-to-stomach view.
Note:
If you want to learn more about the tool, we highly recommend that you take a look at our
previous comparison
of the tool as we explored completely different features there.
Freshdesk
Alright, now that we know what HelpDesk has to offer, let's take a look at our comparison point, Freshdesk. The tool has been on the market for what seems like forever so we expect good things at the very least. So, here's what the platform has to offer:
Shared Ownership — As the name suggests, this system allows you to share ownership of your tickets with other departments. Now the best part of this particular system is that you won't lose any visibility of the ticket nor will you get limited access. This function will allow your team to work in tandem, meaning your issue-resolution rate will improve drastically.
One-click Insights — This function is technically a sub-function of the report tool but it is so good that we decided to give it a separate heading. So, this feature will provide you with a 360 view of your performance profile using real-time and historical data. You can use this knowledge to better tailor your workplace, as well as have a better idea of what's going on both inside and outside of your company. All this in one click, amazing.
SLA management — Long-time followers will know that we have a genuine fascination for good SLA modules. Thankfully, Freshdesk delivers. With their implementation, you can set up a custom rule, a specific deadline, a response type, you name it. Thanks to this system, you service quality will not only remain consistent but will set the right expectations, meaning your dissatisfaction rate will drop.
Pricing Options
And now for some numbers. Both Freshdesk and HelpDesk offer pretty compelling options so it is best that you judge them based on the features offered. As a tradition of a sort, we'll take the recommended plan and outline the details below for you to consume.
Figure 1: Pricing Comparison
HelpDesk Team $19 agent/month
Freshdesk Estate $49 agent/month
TeamsMultiple mailboxes

Automated assignment

Advanced analytics

Customization

LiveChat integration

Ticket Assignment AutomationCustom Roles

Portal Customization

Enterprise Reporting

Multiple SLAs & Timezones

Multilingual Knowledge Base
Now keep in mind that some things such as the number of functions or even the quality of them can change rapidly so be sure to visit the official page (Freshdesk & HelpDesk) to find out the most relevant info.
Usability & UI
Usability is a thing that is quite hard to get right as at one point, you can over-simplify things, and on the other, over-complicate the things. Striking the right balance is key but let's be honest, it can be hard. So, let's discuss some of the quirks both tools have, as well as what things they do pretty well.
HelpDesk
Just as most tools on the market, HelpDesk offers a pretty robust UI system that will help you manage your tickets. So, on the left side, you have an expandable bar that contains all the necessary menus and settings.
HelpDesk Ticketing UI - Source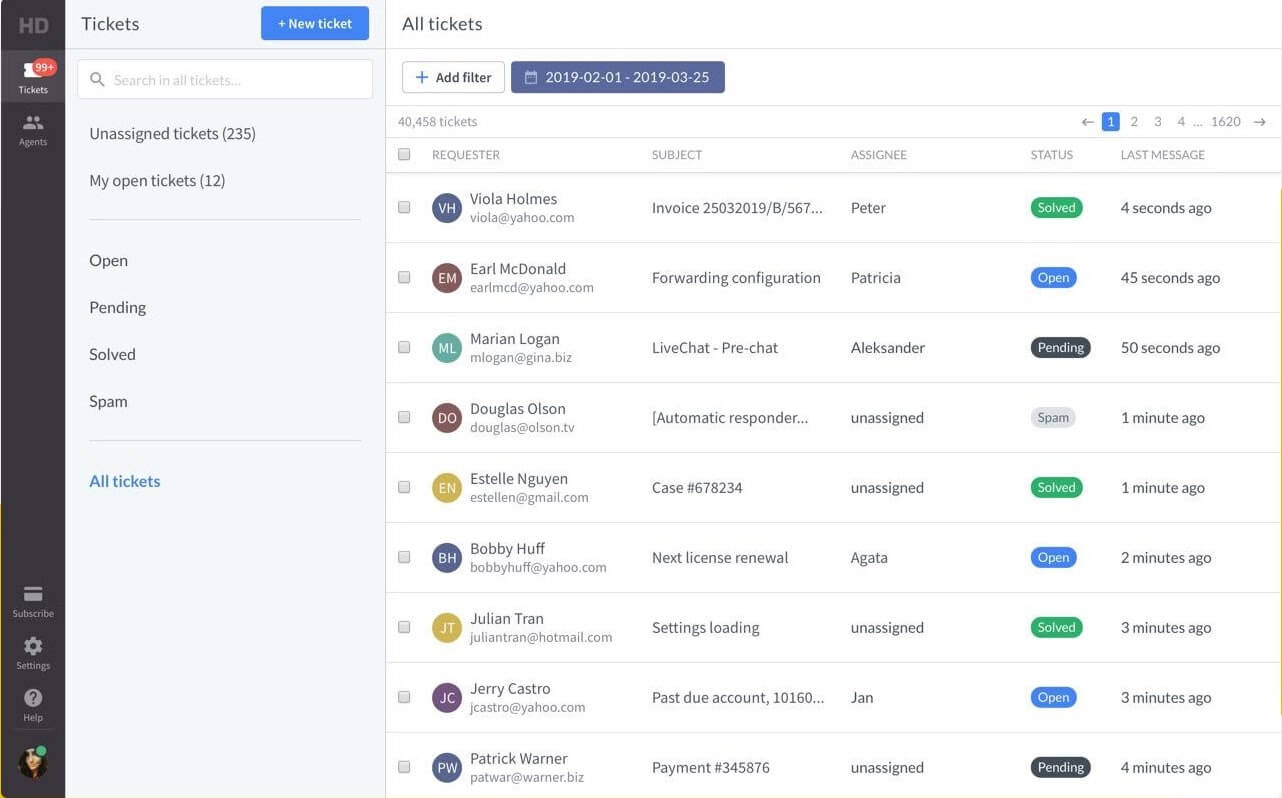 Also on the left side but slightly to the right, you have another menu. This is where your menu options are located (in our case, it is ticket statuses). The main body is filled with data that will change depending on the option selected. And the search bar is also dynamic and depending on the screen will be hidden in the left sidebar. Overall, it is a very functional, albeit standard, menu that will get the job done. It does not require any kind of learning as everything is pretty organically placed. Well done HelpDesk!
Freshdesk
And now for the older brother. Freshdesk is not that different from HelpDesk. In fact, on the surface, they seem identical minus a few options being swapped. Just like in HelpDesk, you get a side menu with all the options you might ever need, the main body that reacts to the option selected, and an inversed side-side menu (it's on the right side now).
Freshdesk Ticketing UI - Source
But there are changes that are worth talking about. For starters, the search bar no longer hides based on the content displayed. Secondly, there is a dedicated notification system, both at the top right corner and at the low right corner. Thirdly, the main body typically changes layouts to accommodate additional info. Overall, it is a great UI but it can get complicated at times. Yet, even still, it won't take you agest to master it. It is very responsive and ergonomic.
Scalability
And the last aspect we'd like to talk about is scalability. A good tool is just as good at scaling to your needs. And this is where both systems differ the most. We won't be diving into two sections this time, instead, we'd just state the obvious.
HelpDesk, while it can accommodate large companies, is best used in mid to small companies. It is affordable and has the right amount of features to cover increasing needs. Freshdesk, on the other hand, is more useful in large companies due to its extra features such as IP Whitelisting, Skill-Based Ticket Assignment, and the Sandbox module. Again, you can use either tool but we believe that you won't be able to achieve the same level of outcome.
Bottom Line
So there you have it, our look at HelpDesk vs Freshdesk. There's a lot we can say about each system and there is no clear winner as both of these solutions are designed for different audiences. Yet, what we can say is that both are very polished, highly flexible systems that will surely make a difference in your company. If you feel like you found your tool but don't know how to move your data, give us a call and we'll move all your data in a hitch. But for now, thanks for joining and we'll see you in our next post.
Try HelpDesk or Freshdesk right now!
Migrate data to your new platform seamlessly.
Set up Free Demo