How to Connect ServiceDesk Plus to Migration Wizard
When migrating data to or from ServiceDesk Plus, you'll have to establish a connection between the help desk and our tool. To do so, our Migration Wizard will ask you to provide the necessary credentials, including:
The URL of your company's ServiceDesk Plus account;
API Key. You can generate it by following this instruction.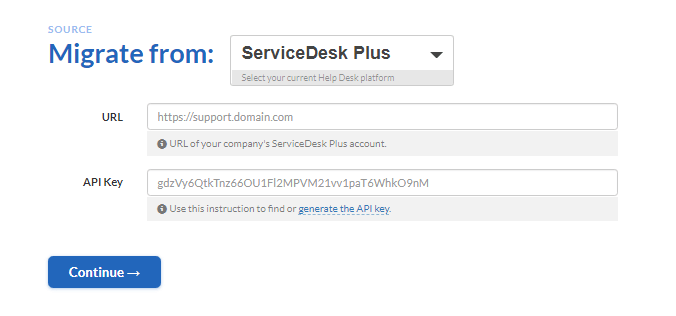 To simplify the connection process, we prepared a visual tutorial covering the essential steps of ServiceDesk Plus data migration.
Check out this video to handle your ServiceDesk Plus data export like a pro:
Check out this video to nail your ServiceDesk Plus data import:
If something wasn't clear enough, or you'd like to get a detailed answer to your question, feel free to reach out to our support team for help.