If you keep up with the latest news in business, you should know that Salesforce decided to retire Desk. com. Since March 13, 2018, the help desk is not available for new clients; and on March 13, 2020, Salesforce will shut down the platform completely.
Up until that point, you can keep using Desk. com as the company commits to ensuring that the platform is available until the retirement date. However, you should give yourself enough time to export the data and make the transition.
In this article, we're going to explore some alternatives for Desk. com and show how you can transition the records using Help Desk Migration service.
Why is Salesforce closing Desk.com?
We've been listening to our Desk. com customers and we heard one thing loud and clear - they want the simplicity of an app like Desk. com AND the full power of the Salesforce platform. - Salesforce.
In other words, instead of re-building Desk. com the company decided to create a new product that would do its best for all the segments of the market. The future platform had to improve both customer and agent experience by providing agents with powerful solutions. Each team member had to receive a unified view across the main business segments and, thus, increase productivity. Finally, Salesforce released Service Cloud Lightning which they promote as an alternative to Desk. And Desk to Service Cloud migration is the most popular one. But let's see what else we have for best Desk.com alternatives.
Alternatives to Desk.com
Searching an alternative to Salesforce Desk, always put your company's priorities and goals first. Remember that your help desk should be a gas pedal that speeds up customer service and problem-solving.
We've gone through the best help and service desk solutions and gathered as much info as we could to offer you the most relevant solutions. So, here are some recommendations from our team:
Service Cloud Lightning
The Lighting promises multichannel support, asset and order management, ticket routing based on agent's availability and skill set. Salesforce added some new and improved most of the existing features, making it possible to provide excellent service even easier. Its users can take advantage of numerous customization (that were lacking in Desk.com) as well as integration and self-service options. As a Desk. com customer, you can transition to the Enterprise edition of Service Cloud Lightning at the same cost per user in your current Desk. com plan.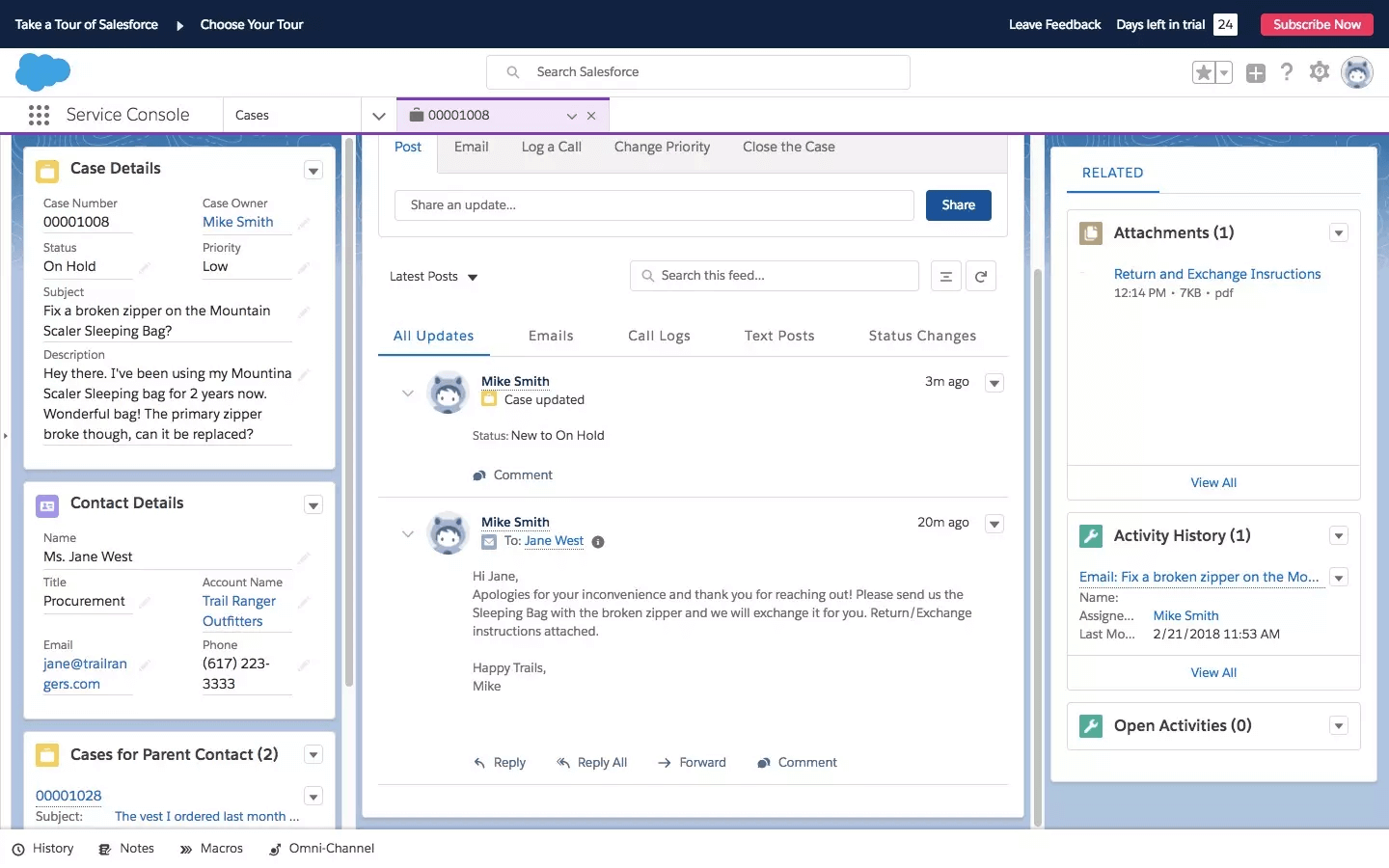 An example of the ticket view in Service Cloud. Source: Trailhead
Zendesk
Designed and maintained by people with a very strong understanding of the support process, Zendesk aims to be a tool that builds a way to excellent customer support. There is also an ability to purchase Zendesk products together or apart. Be it Support, Guide, Chat, Talk, even a CRM product or any other of the existing Zendesk offers, you can trust years of experience and quality from one of the biggest leaders of the market. Lastly, remember of Zendesk's Freemium plans for small teams and businesses as sometimes it can be a game-changer.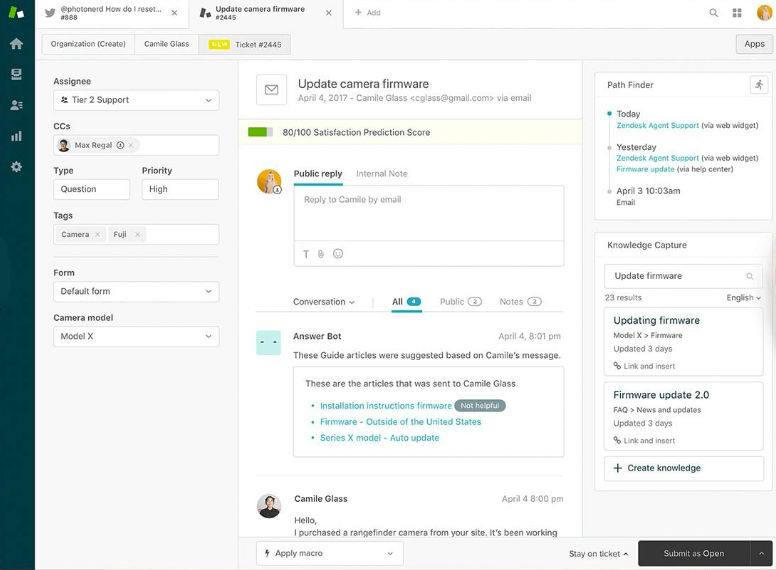 An example of the ticket view in Zendesk. Source: Zendesk
Gorgias
Gorgias is a help desk tailored to the needs of e-commerce companies. The platform offers in-depth integration with related services like Shopify, PayPal, Stripe, and others. In Gorgias, you can view info about customers, their orders and perform actions directly from your account. This help desk also pulls up requests and comments from email, chat, Messenger, Instagram, and Facebook. With Gorgias, you'll also be able to add a live chat with the AI included in its functionality, integrate with hundreds of applications to expand the service opportunities and create reports to easily estimate the results.
The Gorgias ticket and the information it contains. Source: Shopify
Help Scout
Help Scout has everything you need to make email support fast and efficient. Moreover, switching to Help Scout you get to keep many Desk.com features you use and love. For instance, Custom fields, Salesforce integration, integrated knowledge base, workflow automation, and others. Help Scout is affordable in its pricing and its features are clutter-free that makes it suitable for the needs of any business size or industry.
Help Scout interface looks very similar to a standard email, so it's easy to get started with. Source: G2
How to migrate data using Desk Migration Wizard
Salesforce Service Lightning offers a free application that can move your case and article data from Desk to Service Cloud. To use the tool, you'll have to use these steps:
1. Open the App Launcher and click Desk Migration Wizard.
2. Select if you want to import Articles (includes Topics, Embedded Images, and Article Attachments from the Knowledge Base) or Cases (includes Users, Groups, Customers, Companies, Interactions, and Notes).
3. If you see a checkbox "I have checked the box under Setup & Apex Settings", check it.
4. At the bottom-right side, click the Continue button.
The next step you should perform is connected your Desk.com account to Desk Migration Wizard. So, there are 3 additional steps:
1. Type in your full Desk site ID.
2. Click Authorize Desk.
3. Again, on the bottom-right, click Continue.
As soon as you've connected your account, you have to configure your data migration. To do so, you have to read a number of instructions and map each entity separately. Plus. you will be also prompted to confirm if you're okay with the risks of auto-matching the imported records with any of the already existing ones.
And don't forget about the fact that you have to install and setup the Desk Migration Wizard unless you're using their Trial Org. So, if you don't have to waste your time and effort on all these additional preparations and complicated process, check our the solution we'll mention next.
How to migrate from Desk.com to any platform
Help Desk Migration offers you an easy way to transition the data from Desk.com to any help desk of your choice. Whether it's the most common choice of users - Desk to Service Cloud migration, or any other customer service software, the process is simple and pretty much similar for everyone.
The data migration starts with Desk.com integration. To begin with, sign in to Migration Wizard, then create a new migration, and connect your Desk with our service:
Next, choose the platform you want to move to and enter the credentials required by the app.
Once both help desk accounts are connected with our service, you can move on to the next important step of migrating - data mapping.
You will see a list of all record types our service can migrate, so check the ones you need to transition in the following fields:
By default, Help Desk Migration maps the Case fields and Article statuses for you. But you can review and change the mapping if necessary. As soon as you're done with this step, proceed to the Demo Migration.
During the Demo Migration, we'll import twenty Cases with related Users, Customers, etc., to the new help desk free of charge. Use this opportunity to check the quality of migration.
If everything looks great, continue migrating all of your records in the full data migration.
That's it! That's the whole process of Desk to Service Cloud or any other data migration with our migration tool.
Conclusions
Hopefully, this article was helpful in terms of choosing your new help desk as Desk.com alternative. However, there's not much time left to hesitate about migrating from desk to service cloud (or any other platform). If you're ready to start your Desk.com migration just drop us a line and try our migration tool out for free right now!