If you are looking for a good IT service desk tool but the massive list of available products makes your head spin in circles, then fear not as we took the time and prepared a list of five solutions that are generally regarded by the public as the best there is.
We'll discuss what each tool is good at, as well as what are some of the cons that might turn you off. Lastly, we'll try to point out the best plan each vendor has to offer. So, join us as we cover the best tools the industry has to offer. Let's get started!
Zendesk
And to kick off our list is Zendesk. For many, this is the best service/help desk solution as it has practically everything you might need. From inventory tracking and customer center capabilities to robust automations, it is simply one of the most refined systems out there. But some of you might be wondering, if everything is so good with it, surely there has to be a caveat somewhere. And there is but it's not about the product but rather the price tag it comes with.
Creating an automation rule to send an email to the requester if the ticket has been pending for 24 hours - Source
Zendesk can be expensive at times but it also means that it will only get better as time goes. Now for the core aspects of the tool, it's key features revolve around multi-channel communications but since we are talking about the tool from an IT context, we'd like to bring your attention to the integration suite. Yes, the system is packed with many integrations and this is what ultimately sells the tool.
Tracking and turning customer Facebook posts into tickets - Source
Most IT companies use more than one third-party product. Stuff like Slack, Skype, Jira, and many CRMs integrate with Zendesk, meaning your employees don't have to wrestle a ton of windows. The ability to integrate stuff into one system will allow you to streamline, accelerate, and amplify work.
Jira Service Desk
Next on our list is Jira Service Desk and this is a pure service desk solution. There are virtually no help desk functions in it and the main focus of it is to deliver a robust dashboard solution for all your projects. That's right, one of the defining features of the tool are dashboards as you can do just about anything with them. From things such as performance reports to real-time analytics to project overview to tracking subscriptions, you can display and configure whatever you see fit.
Dashboard for tracking IT support performance and activity stream - Source
Also, with the system, you get a bunch of native integrations straight out of the box. Things such as Confluence and Jira Bug Tracker can be hooked in just a few clicks. And speaking of clicks, you also have the option to extend functionality using the Atlassian marketplace, meaning there's no limitation in what you want to do with the system.
In Jira Service Desk, agents can create Queues to categorize and prioritize tracks better - Source
As for the pricing, the system is not super expensive but can be a burden for smaller companies due to how the pricing scheme works. The more agents you have, the lower the price will be but if you operate on a 10 people budget, you will have to stomach the price if you plan on using the system. Yet, if you have more than 10 people working in the system, the price scales favorably and will not be such a drag.
Freshservice
The third is Freshservice. Not to be confused with Freshdesk but yes, we recently talked about the system so we won't be repeating stuff, instead, we'll cover the things we didn't include in our previous overview, or more specifically, stuff that matters in this context. So, the first thing you want to know about the system is the fact that it is flexible like crazy This wasn't always the case but time doesn't wait and the Freshservice development team too. The team made sure you can use the system the way you want and not according to the intention of the design team.
Creating an automated workflow to assign tickets to correct teams - Source
You can use the service desk in both small and large teams as most functions can be expanded upon. Take for instance the automation system, the more you mix and match them, the more things you can automate. And then there's the fact that the performance reporting system can be divided. Say, if you want a report on a particular team that worked in a particular shift, you can do those things. You aren't limited.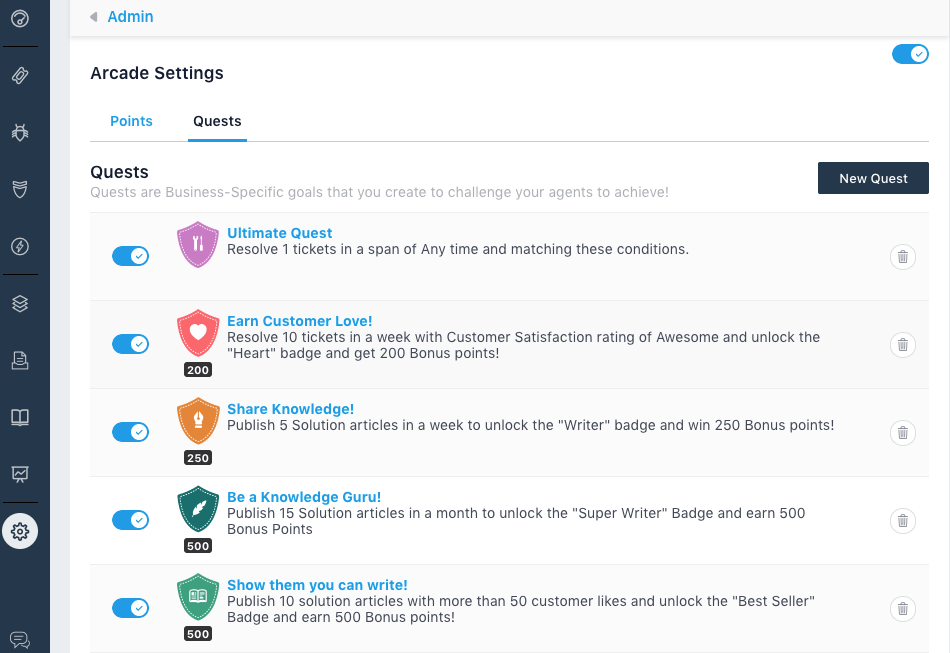 You can set up specific goals for Agents in a form of Quests to complete and corresponding awards for each - Source
The tool also offers one of the best gamification systems out there. This can boost your productivity as each milestone is like a prize, an achievement. This might seem like a gimmick but it actually works as similar systems are present in other platforms and developers work on things even to this day.
HappyFox
We don't often get to talk about HappyFox and we are glad that we can finally mention this system. It is a powerful system that is plagued by poor pricing decisions and a lack of certain integrations. But other than that, this is a very powerful system that has one of, if not the best asset management system out there.
Manage all your Assets and their detailed info in a single dashboard - Source
Now what we mean by the best is that it not only automatically scans stuff, it can add them to a group, then automatically categorize them, and even report on problems. This will prove to be essential for companies that work or develop hardware, as well as it will work wonders in testing facilities. The system will automatically record the products that passed the QA test.
Using SAML for single sign-on in HappyFox - Source
But asset management isn't the only benefit. HappyFox offers a nice set of tools to work remotely. From things such as Single Sign-On (SSO) systems to dedicated channels of communication, the tool has a lot. It is a top performer which seems to have a single noticeable disadvantage - somewhat unjustified price.
Zoho Desk
And last but certainly not least, we have Zoho Desk. The Zoho family of products is famous for being one of the most reliable ones and their service desk offering is no different in this regard. So, the most known feature of the system is the AI-powered assistant, Zia. The company takes huge pride in the tool and has a lot of faith in it.
Zia reports dashboard that displays predictions across anomalies, sentiment, trending ticket tags, and more - Source
And for good reasons too. The entire tool revolves around the AI system. Whether you want to check the amount of work you've done or the financial forecast, Zia will help you do this, just ask her. The same goes for subscriptions and assets, you can tell Zia to keep an eye on everything and report when things are about to get wild. It is also powered by neural networks, or in other words, the more you use it, the more intelligent it will be.
The system collects tickets from across 5 different support channels and organizes them all together in a single menu - Source
But AI isn't the only thing that tool has (even though it is the priority) it also has a multi-channel system that you can use to bridge the gaps between your departments. All your emails, chats, and internal knowledge base stuff will synchronize between multiple departments, meaning everyone will be in the loop. And as for the pricing, Zoho Desk is a mixed bag as all the cool stuff is on higher tiers. Not that the entry-level ones are bad, it is just that they are poorly handled in terms of the amount of function you get for the price.
More to Come
And that's all we have for you for today. As usual, there are many more tools we didn't mention but those above are the cream of the crop. You won't lose if you pick any of the above-mentioned. If you are on the fence, you can see if they have a trial or a demo to make sure you get the right one.
But it's about we end this article. Spring is in the air and we have more stuff in the works so be sure to come back for more articles. And if you need help desk migration services, we are here whenever you need our help. Thanks for joining and we'll see you soon!